Release November 2022: Notifications, Consequence catalogue and more
We are delighted to announce a number of new features in Privacy that should make your work with GDPR even easier. Several of the new features have been requested and therefore we are thrilled that they can already be used now. You can read more about each feature below, which includes:
Notifications in Privacy

Risk assessment consequence catalogue and security measures

New extended record - report

Overview of categories of data subjects on systems
Notifications in Privacy
In the future, when you log in to Privacy, you as a user will be able to see notifications that are relevant to you. These notifications can be of different types, but all aim to make you aware of something in Privacy.
For example, you will receive notifications when you have a task to complete in Task Management (you will still receive the same notifications by email).
But you may also receive small relevant news updates, this could be if something happens in the legal area of GDPR that you may need to deal with in your documentation. But it can also be an update on new features of the platform, just like this one.
Once you have read a notification, it will be marked as read, but you can always go back and find it in your notification centre.

Proposed consequences in risk assessment and an indication of security measures
When you make your risk assessments in Privacy, you must provide a reason for both your choice of "consequence" and " probability". For the time being, you have written this in a free text field on each risk assessment performed.
But we'd like to help you out a bit. So, in the latest version of Privacy, we have introduced a brand new feature that gives you suggestions for the most common consequences for each scenario. That is, consequences tailored to each scenario. Of course, you can select the consequences and insert them in your reasoning, so you don't have to write them down every time.
Of course, you still need to relate to each risk assessment and add it to your reasoning. But with the new consequence catalogue, the ambition is to share knowledge, inspire and save you time when assessing the risks of your processing activities.
Similarly, we have made it possible for you to choose between the security measures you have registered on your processing activities, in your probability reasoning field.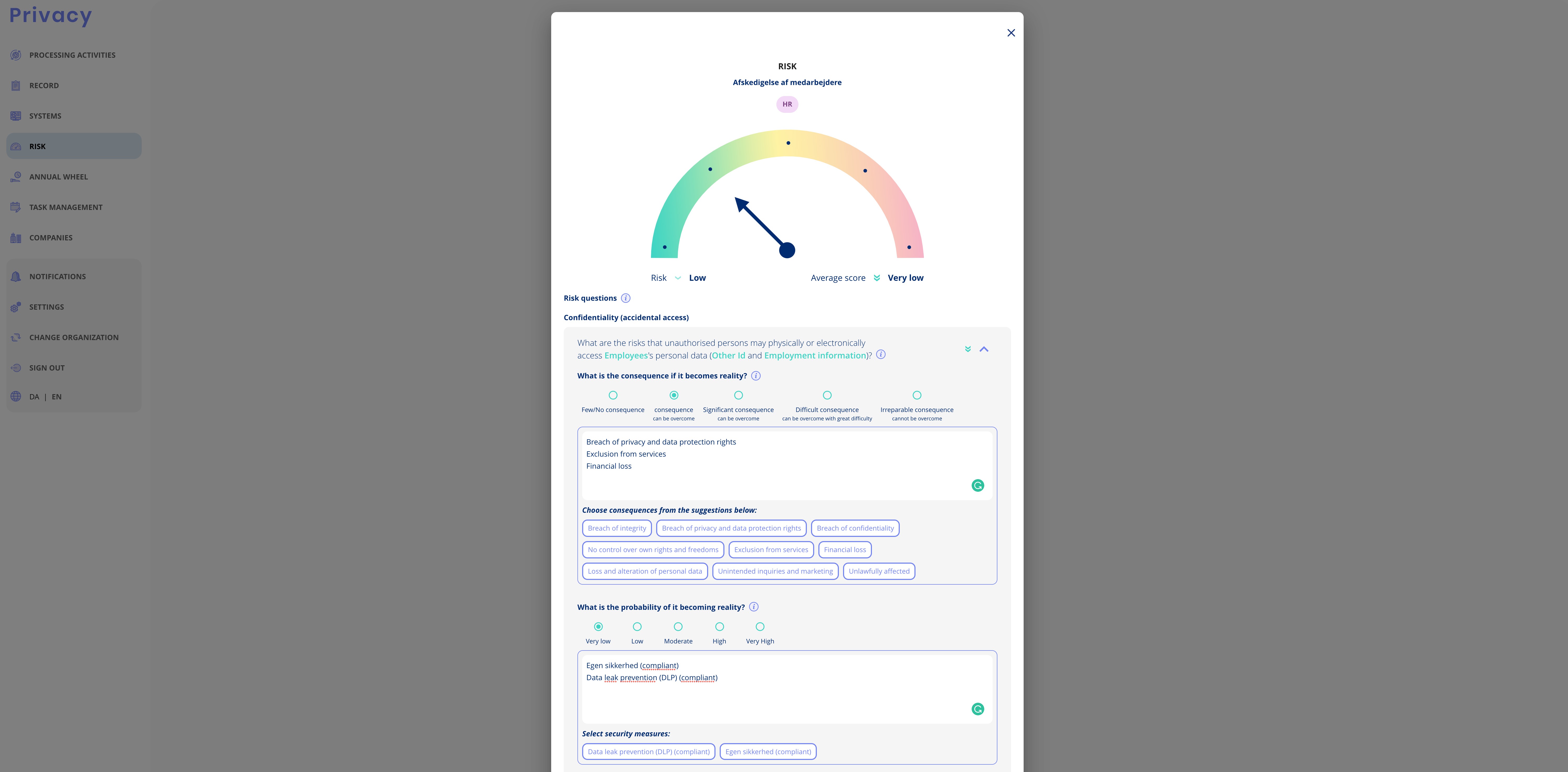 New extended record – report
You have always been able to withdraw your Article 30.1 and Article 30.2 records in Privacy. However, there may be times when you need a slightly more detailed overview of your processing activities. That's why we've created an extended record for the data controller. This provides the same information as Article 30.1, but with additional columns showing, among other things, description, business area, legal basis and systems registered.
You can find the extended record under record and select it in the top right corner.

Get an overview of data subjects on systems
This is a small thing, but even small things can sometimes give you exactly what you need. This feature has been requested as more have registered their systems on their processing activities. Here you have always been able to see what types of data are processed in the system, as this information is retrieved from the processing. But it has not been possible to see who, so we have now added a function at the system level that gives you an overview of which data subjects are linked to the system.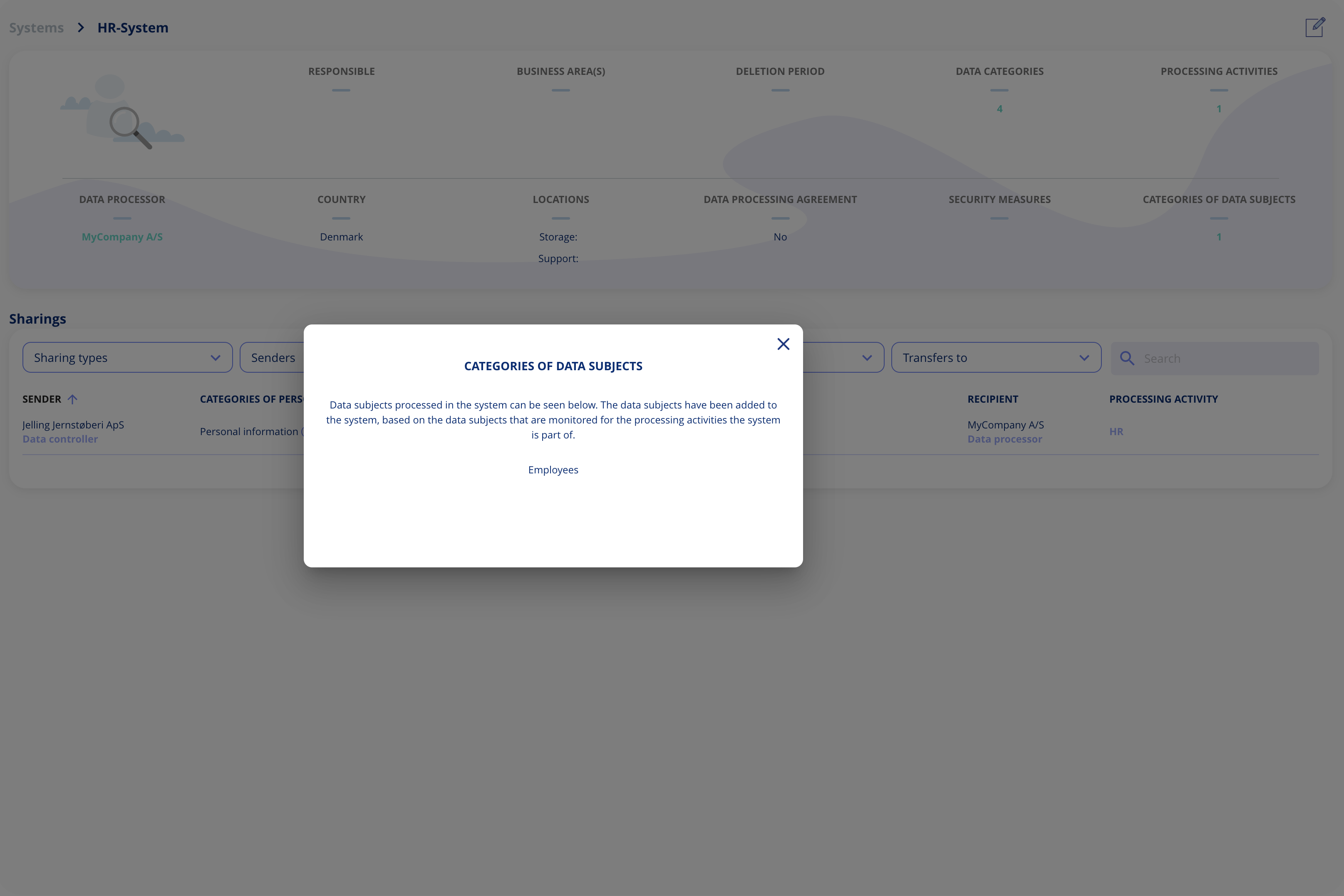 We hope you will welcome the new features. If you have any further questions about Privacy, you are, as always, welcome to give us a call or send us an email.