Introducing Privacy Starter: Your new free GDPR platform 🥳
We are proud to introduce our new free plan: Privacy Starter. This plan replaces our previous 30-day free trial and allows you to use our user-friendly and intuitive GDPR software without cost or time limitations.
With Privacy Starter, you gain access to all the essential features you need to comply with GDPR regulations. This includes processing activities, the record, risk assessment, annual wheel, policies, and the ability to register your data processors, among other important features.
We firmly believe that GDPR should be accessible to everyone, regardless of the organization's size or form. And that's precisely why we have designed a free GDPR platform that includes all the necessary features to ensure that your business is in compliance with existing laws.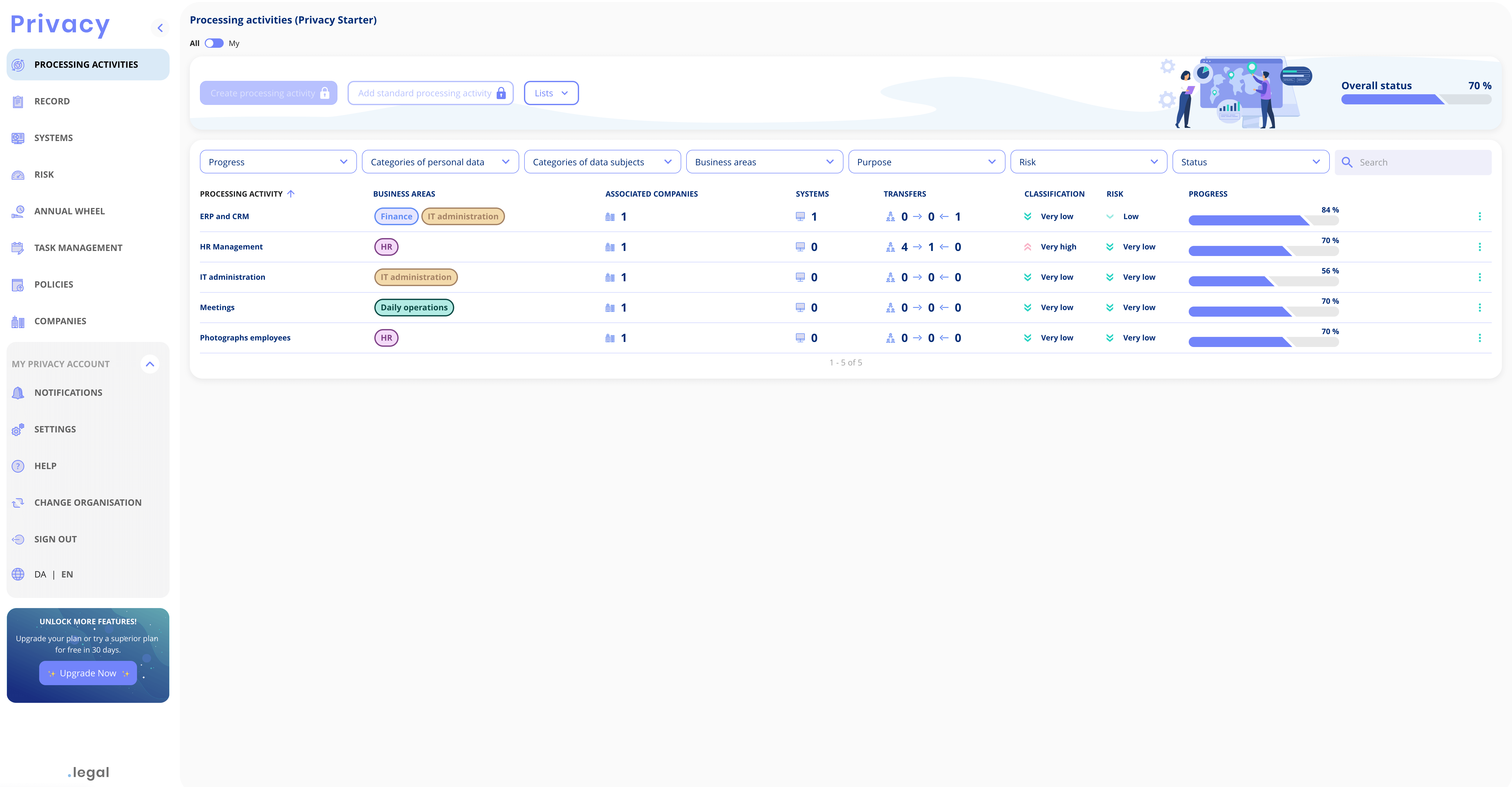 Take control of your GDPR documentation
With Privacy Starter, you have the opportunity to begin your journey toward full GDPR compliance at your own pace and based on your specific needs. It gives you the freedom to adapt your use of the platform to fit your organization's unique requirements and circumstances perfectly.
We developed Privacy Starter to give you control and flexibility. There are no tight time restrictions or pressure to upgrade. You can start the process today and, for example, manage your HR record, then upgrade when you feel your organization is ready to expand the use of the platform. It might be when you want to implement more advanced features, or when you want to take advantage of additional resources and support available in our paid plans.
It is important to us that you have the opportunity to grow and develop with the platform. Whether you're a small start-up, a medium-sized business, or a large organization, we are here to support you through every phase of your GDPR journey. We know that complying with GDPR can be a challenging process, and we want to make this process as smooth and stress-free as possible for you.
Privacy Starter is your gateway to a world of GDPR compliance, where you can learn, develop, and implement best practices in data protection, all at your own pace and without unnecessary pressure.
Let Privacy Starter be your guide and support on the path toward a more secure and compliant future, where data protection is an integral part of your organization's DNA.
Free GDPR for organizations of all types
In the development of Privacy Starter, we were driven by a strong desire to make GDPR accessible and manageable for everyone, regardless of organizational type or size. Our ambition is to pave the way for a broader understanding and implementation of data protection standards by offering a solution that is both comprehensive and affordable.
We have therefore designed Privacy Starter to meet the needs of small businesses, sole proprietors, nonprofit organizations, sports clubs, and other community-based initiatives. We recognize that many of these organizations operate within tight budget constraints and may lack the necessary resources to fully meet the requirements of GDPR legislation. That's why we wanted to create a tool that can be helpful along the way, but without being associated with a monthly license fee.
It is our belief that access to data protection and compliance with GDPR should not be a privilege reserved for those who have the means to pay for expensive licenses and consultancy services. Instead, all organizations handling personal data should have access to tools that can assist them with documentation requirements. And we would like to contribute to this with our free plan, Privacy Starter.
We hope that Privacy Starter can be a stepping stone for organizations looking to strengthen their data protection practices and create a safer and more transparent environment for processing personal information.
Comprehensive support and resources
Even though Privacy Starter is free, we still want to fully support our users. This means that all users, regardless of which plan they are on, have full access to our support team, our built-in help features, and selected templates that can help streamline processes. We also have a comprehensive help center filled with informative articles and resources, designed to guide you through all aspects of the platform and help you start your GDPR journey in the best way possible.
Are you ready to start your free journey with GDPR?
Start now by creating your account and experience how Privacy Starter can make GDPR compliance simpler and more accessible. For more detailed information about what our Privacy Starter plan precisely entails, you can find more information here. Take the first step toward data protection and compliance by starting your GDPR journey now; you can do this by clicking on the blue button below.
We look forward to welcoming you to Privacy.