PACTIUS Contract Management
PACTIUS Contract Management offers you an applicable and operational contract management system whether you require simple filing systems of your contracts for follow-up or monitoring of rights, obligations and complex deliveries.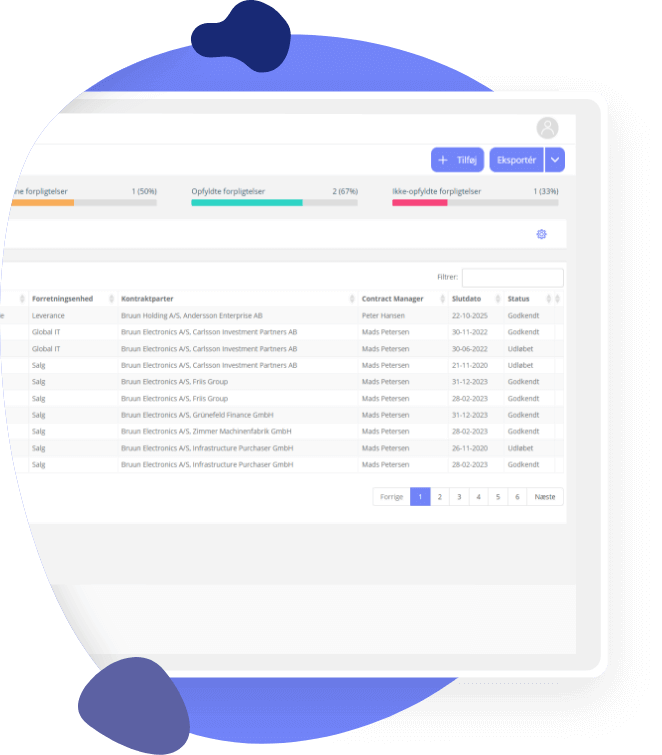 PACTIUS Contract Management
PACTIUS Contract Management is an operational contract management system that can be used for everything from simple storage of contracts to follow-up on rights, obligations and complex deliverables.
Get a comprehensive overview of all contracts, obligations and associated tasks

Be notified of obligations that you must fulfill during the term of the contract

Relate contracts to each other and gain clarity on obligations across your contracts
PACTIUS CONTRACT MANAGEMENT Main features
PACTIUS CONTRACT MANAGEMENT Get started today
We help you get started using PACTIUS to manage your contracts and related obligations.
DKK 150
per user/month
(minimum 10 users)
All standard features

Unlimited number of contracts and obligations

Onboarding and support
All prices are exclusive of VAT and any taxes. Monthly payments in advance, annual commitment.
Efficient contract management

A contract management system that is adaptable to the actual needs of the individual user.

Intuitive features

PACTIUS Contract Management consists of a number of simple features allowing for an efficient and intuitive approach while at the same time minimising risks in the contract management.

Monthly payment

PACTIUS Contract Management is subject to monthly payments based on the number of users.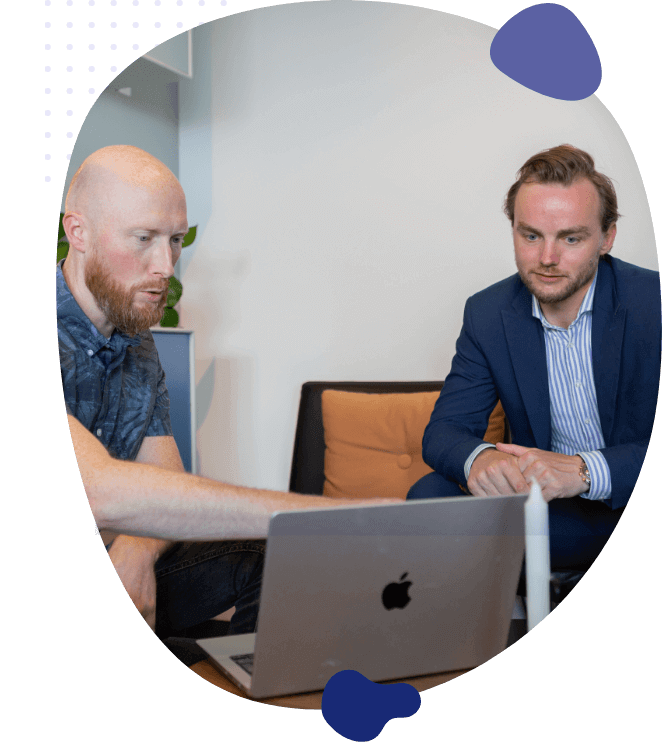 Operational tool for your contracts
In an examination among Danish companies and authorities, 84 pct. estimates that they can gain benefits through better contract management. However, 50 pct. have challenges with their current system support which in most cases are both complex and heavy.
With PACTIUS Contract Management, you get an easily applicable and operational tool. PACTIUS Contract Management can be utilised for everything from simple storage of contracts to follow-up on rights, obligations and complex deliverables on large IT-, enterprise- and outsourcing contracts.
Reduce business costs

Simple filing procedures providing you with an overview, effortless management and follow-up on obligations, secured documentation and risk management may contribute to a significant reduction in the time and resources spent.

Optimise operation

PACTIUS Contract Management is developed to ensure the most efficient management of your contracts - also with a view to optimise your total bottom line.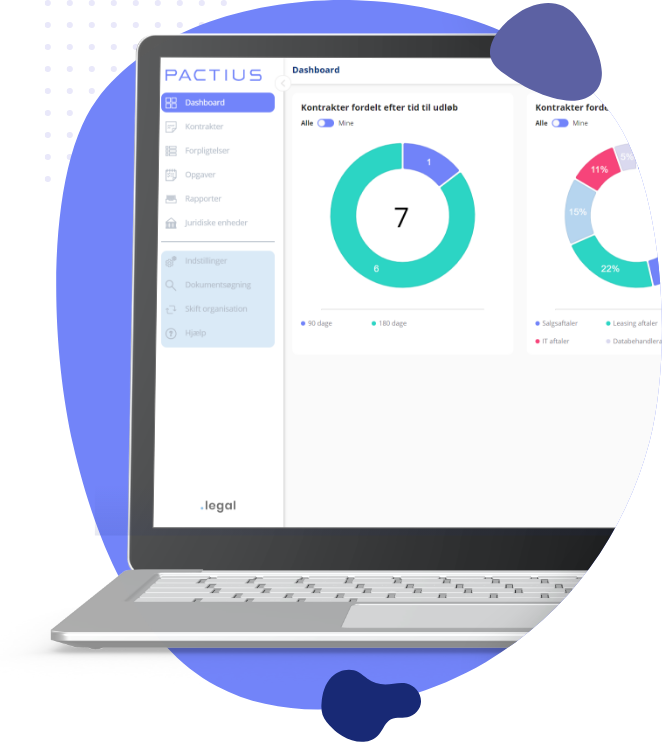 Effective risk management
PACTIUS Contract Management ensures efficient risk management and makes it easy for you to guarantee compliance with rights and obligations of your corporate contracts. The system includes various features that help reduce the risk entailed in contract management.
In PACTIUS Contract Management, the operational structuring of the contract plays an important part in the ongoing follow-up on your own and the other party's obligations. PACTIUS Contract Management has been designed to easily and expediently break down the contract into operational and structured obligations. So, it is possible to break down the contract into the smallest possible operational detail depending on the depth of management chosen by the individual enterprise or organisation.
You are welcome to contact us through the contact form or on telephone +45 3211 6660 for more information about PACTIUS Contract Management.
PACTIUS CONTRACT MANAGEMENT All features
| Feature | Description |
| --- | --- |
| System | |
| AD integration | Integration with Active Directory for single sign on |
| Customised user roles | Create custom user roles with specific permissions |
| Browser based | Access the system through a web browser |
| Microsoft servers | Hosted on Microsoft servers for reliability and security |
| Backup | Automatic backups to prevent data loss |
| Audit log | Detailed audit log to track user activity |
| Dashboard | |
| Dashboard with customization for the individual user | Personalise dashboard views to show the information that matters to you |
| Contracts | |
| Contract archive and overview | Centralised contract archive with easy search and filter functionality |
| Customised Excel export | Export contract data to Excel and customise the format |
| Simple notifications at contract expiry | Receive automatic notifications when contracts are about to expire |
| Strong authorisation engine | Set up custom authorisation rules to control who has access to contracts |
| Support for different contract types | Support for various types of contracts and agreements, such as lease agreements and data processor agreements |
| Possibility to customise contract metadata to your needs | Create custom metadata fields to capture the information you need for your contracts |
| Related contracts | Link related contracts together for easy reference and analysis |
| Easy upload and download of contract documents and files | Quickly upload, download and store contract-related documents and files in the system |
| Obligations and Tasks | |
| Overview of obligations across contracts | See all obligations across contracts in one place and manage them efficiently |
| Easy management overview of the status of obligations | Keep track of the status of obligations and ensure they are fulfilled on time |
| Possibility to delegate obligations throughout the organisation | Delegate obligations to relevant personnel and track their progress |
| Notifications are sent to the owner of the obligation when follow-up is required | Automatic notifications sent to responsible personnel when obligations require follow-up |
| Standard obligations can be defined across contracts | Create standard obligation templates to be used across multiple contracts for consistency |
| Overview of all tasks, owners and status | Keep track of all tasks and their owners, and monitor their progress |
| Possibility to delegate tasks in the organisation | Assign tasks to relevant personnel and track their progress |
| Notifications are sent to the owner of tasks when follow-up is required | Automatic notifications sent to responsible personnel when tasks require follow-up |
| Preferences | |
| Meta data setup | Customise system and master data to your business needs, including metadata fields for contracts and other documents |
| Allows you to customise system and master data to your business needs | Easily manage and update data ownership, e.g. in connection with terminations or organisational changes via mass updates |
| Document search | |
| OCR scanning of documents on entry | OCR technology to extract text from scanned documents |
| Document content is searchable | Search for specific keywords in document content |
| Keyword searches return all documents in which the keyword appears and a sample of the document section | See search results for a specific keyword and preview the corresponding section of the document |
140+ large and small companies use .legal